Reasi, May 18, 2021: Reasi Police learnt through social media about a widow family in distress in Nai Basti-REASI town, having exhausted all ration & nothing to eat as the sole bread earner of the family passed away few days back. A team from Reasi Police Station alongwith ration items and daily use essentials immediately rushed and provided needful items to the family sufficient for a month.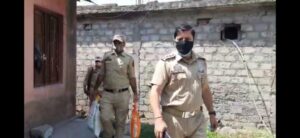 Reasi Police is available round the clock on helpline No. 9596974434 for providing any assistance to the general public of Reasi District. The purpose of this helpline number is to provide a prompt and dependable service to the needy, elderly, handicaps & especially people in distress during this period of lockdown & restrictions. This helpline has sms and calling facility .
If any citizen who is alone and helpless and needs medicines, doctors help, food and any other daily use essential items can contact on the above given number or send a message through sms. Immediate necessary action will be taken to provide help to the needy.