Citizen Reporting
Feature Stories
Human Rights
J&K UT
Jammu
Main Trending
News
Trending Photo
Trending
Kashmiri Pandit Deputation calls on Relief Commissioner Migrants at Jammu; lists important issues
PM Package Employees be exempted from joining till normalcy returns; Accommodation, Bifurcation of Ration Cards, EWS, RBA, Enhancement in Cash Relief, Fencing of Jagti Township, Installation of Main Gates, Road to cremation ground, Construction of Washrooms, Regular Power supply, Drinking Water, Stadium, Ayushman Cards, Construction of quarters for Purkhoo Phase 1 among major demands put forth: MK Yogi
Jammu, November 14, 2021: A Deputation of Socio/ Political leaders of Kashmiri Pandits led by M.K.Yogi, President Jammu and Kashmir National Conference (Minority Cell) today called on Relief Commissioner, Migrants, J&K, Ashok Kumar Pandita,  in his office Chamber at Jammu  and apprised him about the genuine and pertinent problems being faced by the Kashmiri Pandits living in exile for last more than thirty one years and sought their immediate redressal to ease their deprivations and agony.
The important issues highlighted during the meeting were safety and security Issue of PM Package employees working in valley, exemption from joining their duties till normalcy returns in valley,  accommodation issue of package employees, bifurcation of Ration Cards, corrections, EWS, RBA Category certificates, Domicile certificates, enhancement in monthly cash assistance, proper fencing around of Jagti township including building  two main gates with proper system from the security point of view, Road of Shamshan Ghat, Construction of washrooms, regular supply electricity and pure  drinking water issues, Stadium for Children, Ayushman card issue, periodic Sanitation drives  in Jagti and other migrant camps, construction of Quarters for the migrants of Purkhoo Phase 1 living in pathetic and miserable  condition etc.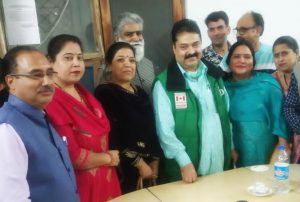 Yogi appealed Relief Commissioner to take all these issues seriously and get them addressed on priority basis to tide over the deprivations of the displaced community.
The Relief Commissioner gave a patient hearing to the deputation and assured them the issues raised by them are quite genuine and will be resolved shortly after taking up the issues with the concerned departments for the betterment of the community.

Pintoo Ji Pandita, Sundari Lal Koul, Naveen Gosami, B.L.Bhat,  Ashwani Bhat, B.L. Dhar, Nanna Ji Wattal, Sarpanch Rakesh Koul, Chandra Ji, Vikram Koul, Ashok Dhar, M L Padroo, Sahil Pandita, Kundal Lal Raina, Ajay Bhat, Pooja, Sunita, Kuldeep Saraf, Avtar Krishen, Ravi Ji, Fency, Vijay Koul, Amit Koul and Sumit Bhan were the part of the deputation.

Mr Yogi said that all these demands are for the betterment of his community adding "if my community is satisfied with me then I am the most satisfied person in the world" and that he was always there for the people of his community.

M K Yogi also emphasized on the point that all the political and social individuals in the community should come under one umbrella saying only then all the problems of the community would get resolved adding there should be one common voice for the cause of community.