Jammu, March 11, 2021: Aryans Group of Colleges, Rajpura, Near Chandigarh organized a webinar on "Anemia in Females, Causes, Symptoms, Prevention & Treatment". Dr. Divya Awasthi, Consultant Gynecologist & Obstetrician, Fortis Hospital, Mohali interacted with the faculty members & Aryans students of Engineering, Nursing, Pharmacy, Law, Management, Education and Agriculture & spoke on "Anemia in Females, Causes, Symptoms, Prevention & Treatment". Dr. Anshu Kataria, Chairman, Aryans Group presided over the webinar.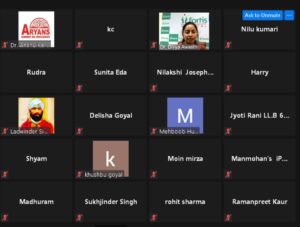 Dr. Awasthi while interacting with students said that Anemia is a condition of low number of red blood cells. In a routine blood test, anemia is reported as low hemoglobin. Hemoglobin is the main protein in your red blood cells. It carries oxygen, and delivers it throughout your body. If you have anemia, your hemoglobin level will be low too, she added.
She further discussed about the symptoms of anemia including Dizziness, Fast or unusual heartbeat, Headache, Joints Pain, Shortness of breath, Pale yellow skin, Cold hands and feet, Tiredness or weakness etc. There are more than 400 types of anemia. Certain forms of anemia are passed down through your genes, and infants may have it from birth, she told.
She explained that Women are at risk of iron-deficiency anemia because of blood loss from their periods and higher blood supply demands during pregnancy. Treatment varies, depending on the type, but it may include iron or vitamin supplements, medications, blood transfusions, and bone marrow transplants, she said.