By Balkrishen Koul
Jammu, March 11, 2021: Kapalmochan Teerath is situated on the banks of the Rambiara Nallah, about two kilometers from South Kashmir's Shopian town.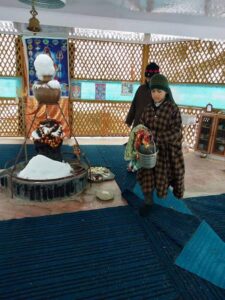 Kapalmochan is a Hindu religious place, has a lot of recognition all over the country, but it has a
significant recognition among the Kashmiri Pandits, for Kashmiri Pandits, it is the only place in
the Valley where the Shradh for those who die in accidents (Akal rityu) are performed. The temple,
named as Kapleshwar Shiva, houses a Shiva Lingam and is surrounded by three fresh water
springs. The small fresh water springs which surround the premises of shrine have special
importance for Kashmiri Pandit community. They believe that the holy water gushing out of these
springs can absolve sins. A few local Muslims also claim that the water has strong curative power.
This pilgrimage site is one of the three main places in the country where people who have died
due to premature death get salvation. Thousands of people used to come to the place for mass
donation before terrorism engulfed the state. People from different corners of the country used to
come here and organize the pilgrimage. It is here that the kriya and shraddha of the unmarried and
premature death is performed. This is the only place in the country after Ujjain and Chennai where
those who suffer premature death are said to get salvation. Pind Dan and Sharads were / are be
performed normally on the occasion of Shravan Duadashi every year.
The Sacred Shivling here is said to have thousands of eyes.
During the era of terrorism, this Sacred Lingam was fragmented.
Another story about the tirth is that Kapal (skull) of Lord Brahma got attached to Lord Shiva's
finger after Shive beheaded him for a wrong confession. Lord Shiva failed to get rid of the Kapal
attached to his finger despite visiting a number of sacred places. But finally when he reached here
and took a dip in one of the springs, the Kapal got detached from his finger and he was exonerated.