Jammu, June 05, 2021: To create awareness of the Environment and Nature, Aryans Group of Colleges, Rajpura, Near Chandigarh organized a webinar on World Environment Day, under the theme "Ecosystem Restoration". Dr. Ranjana Sharma Garg, Mrs. North India Queen 2019 & an Environmentalist interacted with the students of Engineering, Law, Management, Nursing, Pharmacy, B.Ed, Agriculture etc of Aryans. Dr. Anshu Kataria, Chairman, Aryans Group presided over the webinar.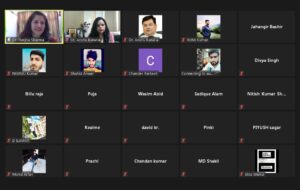 Dr. Ranjana while interacting with students said that this day is celebrated on June 5 every year to remind people about the importance of nature. All kinds of ecosystem can be restored, including forests, farmlands, cities, wetlands and oceans. Restoration initiatives can be launched by almost anyone, discussed Ranjana.
She further said that the emergence of COVID-19 has also shown just how disastrous the consequences of ecosystem loss can be. By shrinking the area of natural habitat for animals, we have created ideal conditions for pathogens including corona viruses to spread but amid the corona virus-induced lockdown, nature is getting time to clean itself and reclaim its space, she explained.
On this occasion, a photography contest was also organized & students from all departments participated enthusiastically. The winners of the contest  including Shahid Anwar, B. Pharma; Wasim Abid & Suliman Saith, MBA; Ekta Shukla, B. Pharma & Dilawar Ahmad Lone from MBA were announced.