Ganderbal/Jammu, Jun 18, 2021 : Amid following Covid-19 SOP's the Mela Kheer Bhavani was celebrated with religious fervour and gaiety at Tumulla in District Ganderbal, Tikkar in Bandipora and Janipur in Jammu besides other places of the state and country.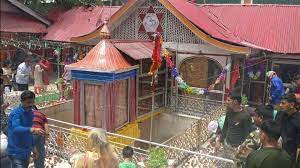 According to news agency—Kashmir News Observer (KNO) a limited number of devotees were allowed to pay obeisance at the temple keeping in view of the ongoing pandemic to contain the spread of this deadly pandemic.
The Tulmulla area of District Ganderbal wore a deserted look after a limited number of devotees were witnessed at the temple of Mata Ragnya Devi, a revered goddess of Pandits to celebrate the annual festival of Kheer Bhawani.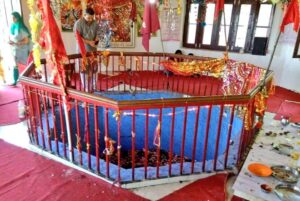 A Pandit said to KNO that nestled in shades of mammoth Chinar trees the temple has witnessed rush of devotees for decades.
Mostly Kashmiri Pandits performing the rituals of the festival at the temple but last year the mela was cancelled along with other religious festivals and this year the the administration decided to allow a limited number of devotees amid Covid protocol special prayers were held in the temple where devotees offer milk and kheer to the sacred spring with the hope that the pandemic will end soon.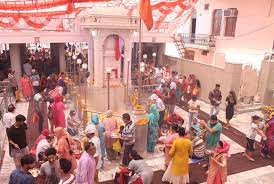 A sign of communal harmony is always revisited at this temple during the historical festival which has not only remained limited to the festival but provides an opportunity for local Muslims who wait eagerly for one year to re-unite with the Pandit community who migrated from Kashmir in the early 1990s.
However, this year the disappointment was witnessed byboth communities as they couldn't meet their dear ones due to the limited resumption of mela.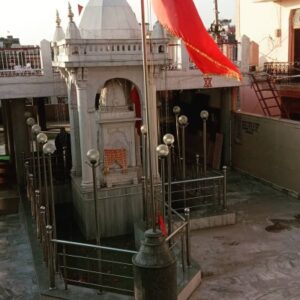 Meanwhile, the arrangements made by District administration through various departments remain appreciable during the festival, besides other essential services adequate medical facilities were also put in the place.
"We are celebrating the Mata Kheerbhawani festival while observing SOPs. During these celebrations, we are praying to God to wipe out this pandemic as soon as possible," pandits said.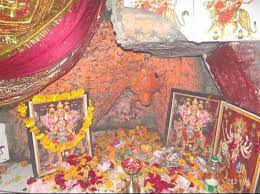 The devotees also visited various temples in Kashmir which include Tikkar Kheer Bhawani temple in Bandipora, Manzgam Kheer Bhawani temple and Mata Tripur Sundari temple in Devsar area of Kulgam district.
In Jammu the celeberatiosn were held at Mata Kheer Bhawani temple Janipur where less number of pilgrims were witnessed due to Covid protocols and were seen following the social distancing and masking etc.—(KNO)