KARGIL, JUNE18, 2021: In order to take stock of the present status of mobile telecommunication services and telecom infrastructure development works in Kargil District, Executive Councillor for Works Aga Syed Abass Razvi convened a meeting with Jio Telecom Cluster Head Ladakh at the Council Secretariat here today.
Councillor Tangole Haji Ghulam Muhammad, Councillor Thasgam Abdul Rahim besides other concerned officers were present in the meeting.
During the course of the meeting, Jio Cluster Head Ladakh informed the Executive Councillor Works that the proposed tower sites at Karchay Khar, Shargandi, Tangole, Rangdum, Zanskar, Khandi and Purtickchay will be made functional soon.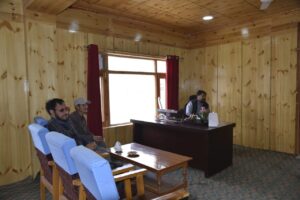 The meeting was further informed that in Batalik and Chiktan area, 1 mobile tower each at Sanjak and Garkone will be made functional within one month's time, adding that the material transportation to Itchoo tower site is under process which will be completed during this working season.
EC Syed Abbas while underlining the need to ensure mobile connectivity to all un-connected villages of the district said that all out support would be extended from the LAHDC Kargil to achieve this goal.