KARGIL, AUGUST 03, 2021: In order to discuss various necessary arrangements with regard to the ensuing holy month of Muharram ul Haram and the conduct of congregations and mourning processions in the district during the month, Deputy Commissioner and CEO,LAHDC, Kargil Santosh Sukhadeve today convened a meeting of the representatives of the religious organizations and the concerned district officers here today.
Senior Superintendent of Police Kargil Anayat Ali Choudhary, Additional Deputy Commissioner Kargil Tsering Motup, representatives of Anjuman e Jamiat ul Ulema Isna Ashariya Kargil (AJUIAK) and Imam Khomeini Memorial Trust (IKMT) Kargil , Executive Engineers of PHE, R&B, Mechanical, PDD, CMO, CEO, AD FCS&CA besides other concerned officers were present at the meeting.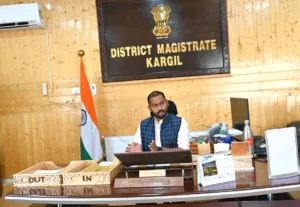 During the course of the meeting, threadbare discussion was held on various aspects of putting in place all necessary arrangements including ensuring uninterrupted power and water supply, ration availability, deployment of doctors and ambulances, medical facilities, traffic management, PAS system and sanitation of the places of congregations and the roads from where processions will be taken on the 9th Muharram and the day of Ashura.
Arrangements related to the COVID-19 SOPs to be implemented during the mourning congregations and processions also came up for discussion, and the DC urged the representatives of religious organizations and the concerned officers to ensure all guidelines are followed in letter and spirit to mitigate the risk of Coronavirus infection.
Security, traffic management and other necessary arrangements were also discussed in detail.

The Deputy Commissioner directed the concerned departments to make all arrangements well in time so as to ensure smooth conduct of the congregations as well as processions.
DC Santosh Sukhadeve also issued directions for deployment of sweepers to ensure the cleanliness of the places of congregations as well as the routes where the mourning processions are held. He also instructed the officers of FCS & CA to ensure that people do not face any difficulty in procuring their food grains. The Power Department was also directed to provide uninterrupted power facility in Kargil town as well as the rural areas during Muharram time.
Meanwhile, the Deputy Commissioner appealed people to adopt Covid Appropriate Behaviour (CAB), including social distancing protocol and use of face masks during the religious congregations and mourning processions.