KARGIL, AUGUST 01, 2021: Councilor Baroo Minjee Constituency Ghulam Mehdi Sheikh today distributed 27 sewing machines, 7 each for every panchayat halqa of Goma Minjee along with 40 metre trial cloth for each mohallah. He also provided 2 power generator sets for mohallah Kharkat and Thurchoks on the occasion. All these items have been provided from the Councillor Constituency Development Fund (CCDF).
The Councilor handed over the sewing machines to the direct beneficiary women of the mohallahs in presence of the Halqa Panchayat members during a distribution ceremony.
On the occasion, Councillor Ghulam Mehdi Sheikh informed that a double chambered water lifting irrigation pump has also been sanctioned for Gongma Minjee which shall be operated through solar power, adding he said that with this a long pending demand to fulfill the irrigation problems have been fulfilled.
He further said that an irrigation pump has also been sanctioned for Yokma Minjee which shall be made operational soon subject to public cooperation in terms of site selection.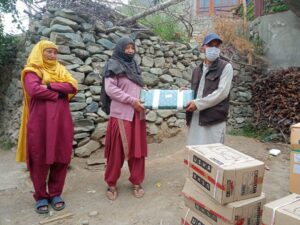 The Councilor Baroo Minjee on the occasion said that the sewing machines would help the beneficiaries to develop tailoring skills at home which can help them earn livelihood. He also said that the mohallah tailoring centre would also be provided the monthly house rent.

Earlier, similar number of tailoring machines have also been recently provided to the beneficiaries in Zagang Baroo and Titichumik as well where community tailoring centres have already been established, while 2 generator sets have also been given to the Thama and Durpokhor hamlets recently. Shamiyanas have also been distributed to Nyaqto, Zgang and Yokmastrang areas in the constituency.
On the occasion, Sarpanch Goma Minjee Ali Naqi, Panchayat Members Kacho Abdullah Khan (Naib Sarpanch), Ghulam Ali and  Roqiya Banoo were also present.
Meanwhile, the beneficiaries expressed gratitude to the Councillor for providing the sewing machines and power generator sets.