Rajouri, May 18, 2021: Apni Party Vice President and Former Minister Choudhary Zulfikar Ali today expressed his grief over the demise of senior politician and Former Union Minister Prof Chaman Lal Gupta.
In his condolence message, Ch. Zulfikar Ali said that he was a towering politician from Jammu plains whom he admired and they had good relations as a politician.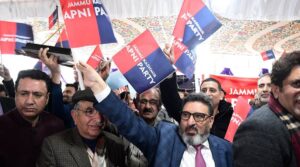 "We have lost the voice of Jammu. He was respectful to all the leaders irrespective of their political ideology. His role in politics will always be remembered," said Zulfikar Ali.
He said that though he was the senior leader of BJP and remained a Union Minister despite that he was always down to earth and inspired many politicians by his public friendly behaviour.

He prayed to the almighty for the peace of the departed soul and courage to the family members of the deceased senior leader of BJP.