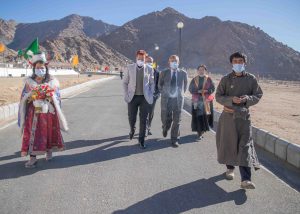 Leh, November 21, 2021: The Second Syndicate Meeting of the University of Ladakh (UOL) was held today at the Leh Campus of the University of Ladakh in Taru. Vice-Chancellor, UOL, Professor SK Mehta, chaired the meeting. Secretary, Higher Education, Ladakh, Padma Angmo, who is also the Educational Advisor of the University, also attended the meeting.
Information was given to the members of the Syndicate, including appointment of the new Vice-Chancellor, transfer of Satellite Campuses and posts of University of Kashmir to University of Ladakh, UGC recognition to the University, membership of Association of Indian Universities, installation of 100 KWP solar power plants in Kargil and Leh Campuses; Memorandum of Understanding (MOU) signed with various Universities and other institutions, introduction of NCC as an elective course in Constituent Degree Colleges, introduction of PhD in Physical Education, Political Science and Geology, appointments on contract basis, construction activities of the University, University Outreach Programme, adoption of Government Middle School, Karith (Karith),  establishment of museum at the Leh Campus, establishment of Research Centres, establishment of Tribal Research Institute at the Kargil Campus, formation of Ladakh Region Knowledge Cluster (LRKC) for connecting academics seamlessly, Governments, Research & Development Institutions and Civil Societies towards proactively encouraging innovation and knowledge dissemination, visiting/adjunct faculty, academics and sports calendar and budget under Grant-in-Aid (Revenue Component) and Special Development Package (Capital Component). These agendas were discussed and ratified by the Syndicate.
Dr Nawang Tsering, former Principal, Central Institute of Buddhist Studies, Leh; Kacho Asfandyar Khan, IAS (Retd.), former Commissioner/Secretary to Government of J&K; Dr P.S. Pathania, former Registrar, Central University of Jammu; Rajat Kumar, Additional Secretary, representative of Administrative Secretary to Government, Finance Department (Financial Advisor), Union Territory of Ladakh; Dr Jatinder Khajuria, Registrar, Cluster University of Jammu; Professor Khurshid Ahmad Mir, Cluster University of Srinagar; Professor Bashir Ahmad Rather, Principal, Amar Singh College, Srinagar; Dr Mushtaq Ahmad Lone, Dean, Faculty of Education, Cluster University of Jammu; Mr Imteeaz  Kacho, Registrar, University of Ladakh; Professor Deskyong Namgyal, Dean, Academic Affairs, University of Ladakh; Professor Farooq Ahmad Khan, Director, Leh Campus of the University of Ladakh; Kaneez Fatima, Director, Kargil Campus, University of Ladakh; Konchok Angmo, Deputy Director, Leh Campus of University of Ladakh (Special invitee); Dr. Amina Qari, Principal, Government Degree College, Kargil; Tashi Ldawa, Principal, Eliezer Joldan Memorial Degree College, Leh; Stanzin Yangdol, Principal, Government Degree College, Khaltsi.; Dr Tsewang Motup, Principal, Government Degree College, Nubra; MNM Shabani, Principal, Government Degree College, Zanskar; Dr Amajad Ali, Principal, Government Degree College, Drass attended the meeting.
The officials discussed other issues about the University and Constituent Degree Colleges in the meeting. Members of the Syndicate appreciated the pace at which the University is developing in terms of academics and infrastructure development. The University of Ladakh was also congratulated for the formal transfer of both the campuses to it along with staff pursuant to the reorganization of J&K, UGC recognition and AIU membership.