Jammu, March 08, 2021: On the occasion of International Women's  day Shaheed-e-Azam Bhagat Singh Foundation organized 5 a side hockey matches amoung women teams in Jammu.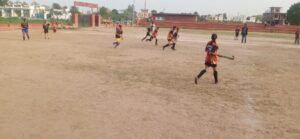 Three teams namely KK Hockey Club, Bandhurakh Hockey Club and Shaheed Bhagat singh Hockey club participated in this 5 a side tournament for women at chattha Sports Field. KK Hockey club won the final and bandhurakh Hockey Club remain the runners up. Shaheed Bhagat singh hockey Club lost to Bandhurakh Hockey club by 0-5 and KK Hockey Club won the celebration matches from Bandhurakh Hockey Club by 3-1.
Mrs. Pardeep Kour corporator of Jammu cantonment was the Chief Guest. She presented trophies to the participating teams. She while speaking on the occasion asserted that women should know its strengths and must learn to prevail in every situation. She said sports is the only field which can provide confidence to fight the discrimination in the society.
Dr. Taran Singh President of the foundation said that this for the first time such initiative has been taken with the help of Hockey J&K. Such initiatives of Hockey J&K will prove effective in empowering the women hockey players. He appreciated the working President of Hockey J&K for his support.
Mr. Prince Singh also spoke on the occasion.
Ms. Baljit Kour and Sh. Angat Singh did umpiring of the matches.