Jammu, September 13, 2021: Rakesh Mahajan, incharge all Cells today took a meeting with Conveners and Co Convenors of Sanskritik Art and Culture Cell, Weavers and Artisans Cell to assess the progress made by Convenors and Co Convenors on Carrying the message and programmes of the BJP to the masses as per decision taken in the previous meeting.
Rakesh Mahajan called upon all participants to Put in maximum efforts to woo masses to support and vote for BJP. On this occasion Vaid Prakash ji was also present. The State Co Convenor Sumit Sharma also encouraged the Sanskritik Art and Culture Cells, State Executive Members and district wise Convenors and Co Convenors for their efforts.
Sumit also appreciated their good effort on ground and also asked them to be more active and be in touch with all Artists, Poets, Scholars, Saints and all those people who want to give their service for the promotion of the Culture. Sumit Sharma also assured Rakesh Mahajan ji that the cell under your guidance would definitely give the positive results to the party as per party's expectations.
Co Convenors Narender ji also gave account of Cell's progress and the data of programmes which Sanskritik Cell has been doing.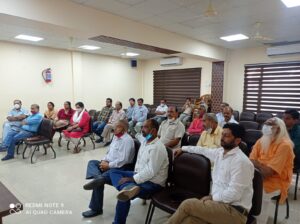 Others who were present include State Executive Members BK Sambyal, Om Prakash Shakir, Bhupinder Singh Manhas, Convenor Akhnoor Mohan Lal Sharma, Jammu West , Ashok Dixit, Sahil Mahajan Jammu East, Bahadur Singh Manhas Jammu Rural, Udhampur Surinder Magotra and RS Pura Capt Kundan Lal Sharma.