Jammu, February 14, 2021: Continuing the efforts to fetch  progress towards preservation and promotion of Kashmiri traditions, culture, celebrations of various regional and religious festivals , to propogate use of our mother tongue with its original script Sharda, to make our future generations aware of the rich heritage , Sanjeevani Sharda Kendra today celebrated "Gauri Tritaya" with all the fervor to follow the age old tradition , which used to be an annual convocation day at Sharda University at Sharda site now in occupied part of Jammu and Kashmir.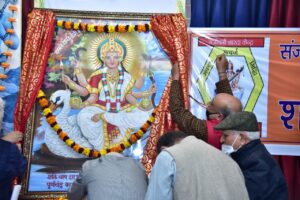 The Festival started with installation of Glorious painting of Mata Sharda presented on the occasion by Mr. Indu Bhushan Zutshi PANNYAR Group amidst of thundering Shankh naad  and unveiled by Dr. Manoj Dhar, Vice Chancellor University Of Jammu as the chief guest of the function after Deep Prajwalan.
Dr. Manoj Dhar VC JU and Chief guest of the celebration thrilled the audience with his concern on the occasion, his connection to the roots and his dedication towards the society. He laid stress on use of our mother tongue in daily use and advised youngsters to explore their 100 % to seek knowledge and make it the tool to progress and sustain in adverse conditions. He also explained at length the role of the designers of the national education policy and how they strongly stuck to Indian way of learning and teaching and did not include western thoughts about education. He also explained the necessity to keep practicing our mother tongue for daily use in light of the provision of receiving educations in one's mother tongue / regional language.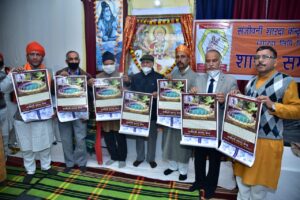 Mr. Kamlesh Tufchi , President SATISAR FOUDATION explained at length the traditional way of this convocation day and related Matrika Puja and made all remember the laid down religious and literary traditions and recited mantras in praise of Goddess of learning and knowledge Mother Sharda.
The Achariyas from Sanskrit College performed the Shanti paathh, Swasti Puja , Ganesh Puja and Saraswati  Vandana in traditional melodious voice.

Kendra explained their journey with  process of online learning and teaching Sharda Script through a Sharda Vibhag School of SSK established by  Sanjay Pandita now with a team of 35 learned Sharda Script Teachers. It was also informed that till now 29 batches of over 700 students have ompleted the primary course of the script and the 3 advance groups are engaged in transliteration work of sharda manuscripts. A Sharda kids group with young students is promoted at their own level to introduce the script to young generation. Another Sharda creative group is building the creative work in Sharda script and literary / art designing competitions are also held which are overwhelmingly participated by students.
SSK (Sharda Vibhag) has taken up matter with various universities, like university of Jammu, Central University of Jammu, Sanskrit University of Karnataka and other renowned educ ational institutions like Bhandarkar institutions Maharashtra  to take up the  sharda script under their skill developmental programes for promotion of the script.
Recently a MOU has been signed with Himachal Pradesh Central University to start  one year diploma course in sharda lipi under the provision of propogating regional languages in their original script. An appeal was made to all concerned in education to foresee the need of promotion and spread of the script in light of the latest national education policy of the country where it shall be obligatory to receive education in ones mother tongue / national language.
Mr. Sant Ji Tusoo from Delhi and a decedent of the family connected with Sharda Peeth enlightened with ageold history of Sharda Peeth, the Sharda Village, Pujaris of the Peeth, various saints of the area who performed Sadhana in vicinity of Sharda peeth and stressed for revival of the script and Sharda Yaatra to POK.
Mr Ravinder Pandita from Save Sharda Team repeated the dedicated effort to continue struggle to press upon the Indian and Pakistan Governments to restart the Sharda Yatra without any hurdle.
Ms. Anjali from Core Sharda Team informed about the continuous efforts being made by the organization, since last 5 years, in revival of the script which shall be the key to unexplored treasure of knowledge in Sharda Script.
Mr. H N Pandita Senior Trustee  Sharda Sanjeevani Kendra advised the participants to rededicate ourselves for preservation of our very rich traditions, faith and culture. He also thrusted upon the necessity of reviving the Sharda Script and Celebrations of all festivals which where partly lost after the partition of the country and our last mass exodus from our mother land.
Dr. Satyabama Razdan linguistic and Sanskrit language teacher and  expert, who is dedicated to Sanskrit language since past 35 years and stands as a pioneer of the language in our state and out, was honoured Annual S
Annual Sanjeevani Sharda Calender of the year 2021-2022 dedicated to Kapetesvara  Tirth, (Kother)  Anantnag was also released on the occasion.
The function concluded with Sharda Vandana written by great Kashmiri Saint Gann Moal , sung by Ms.Sushima Pandita and team. Traditional Prasad of roasted Moong was distributed amongst the attendants and beyond.