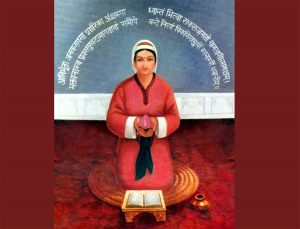 Jammu, September 28, 2021: Sahibi Saptami (Kanyagat) Mahayagya (Hawan) was solemnized with great fervor and gaiety across India in general and at Waskur (Ganderbal) and Talab Tilloo, Jammu in particular. Despite Covid 19 protocol SOP restrictions, Shri Alakh Sahiba Trust (Regd) made elaborate arrangement of social distancing etc at Waskur (Ganderbal) and Tirath Nagar, Talab Tilloo, Jammu which facilitated devotees to pay obeisance and participated in Hawans. Mata Shree Roopbhawani, the incarnate of Mata Shree Sharika Bhagwati has a following across the globe. Shri Alakh Sahiba Trust, this year resumed this Hawan celebration at Waskur (Ganderbal) after a gap of about 31 years. As per release, todays Hawan used to be performed at Waskur Only but owing to migration (forced exile of Kashmiri pandits from Kashmir Valley) this Hawan known as Kanyaghat Hawan of Mata Shree is performed in Jammu also.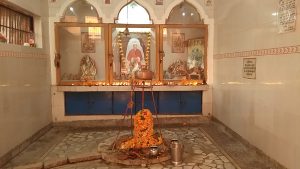 KP Sabha Shalimar Garden, Delhi NCR also celebrated Sahibi Saptami (Kanyagat) this year where Mata Roopbhawani's traditional Dhyan (Image) was established on her 400th Prakash Utsav.
This year the Trust, which manages & maintains all the Taposthals and temples of Mata Shree Roopbhawani at Janam Bhoomi, Nawakadal, Cheshmasahibi, Wutshun, Manigam, Laar ,Waskur and Temple at Jammu, decided to place Shri Rohit Dhar S/O Shri Bushan Lal Dhar , aged 21 years as the Yajman at Hawan in Jammu while Shri S.K.Kachroo was Yajman at Waskur, This year after a gap of 31 years, that people from Anantnag, Tulmulla, Laar, Manigam, Waskur, Srinagar thronged at Waskur Taposthal where Poorn Ahuti culminated at round 3.30 PM which was followed by Prashad Vitran.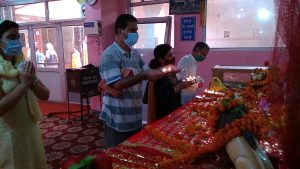 There was festive look at Waskur where people including the natives enjoyed the Bajan Kirtan coupled with recitation of Vedic mantras and Bhawani Rahasya Updesh. International reputed scholar Dr. C.L.Raina delivered at valedictory talk on Mata Shrees Rahasya Updesh which was appreciated by one and all.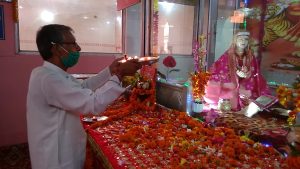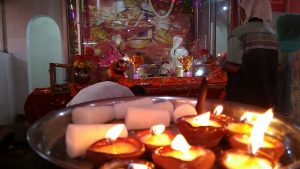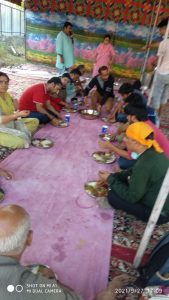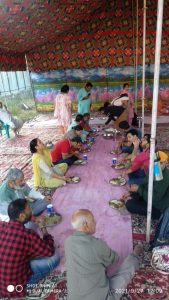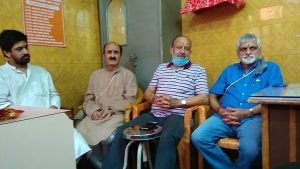 Click Here to read about the Mystic Saint Mata Roop Bhawani By BL Jalali