Srinagar, February 13, 2021: To raise greater awareness on the importance of Radio, Aryans Group of Colleges, Rajpura, Near Chandigarh organized a webinar on World Radio Day. Big FM & All India Radio fame RJ Geet interacted with the   Aryans students of Law, Engineering, Management, Nursing, Pharmacy, B.Ed and Agriculture. Dr. Anshu Kataria, Chairman, Aryans Group presided over the event.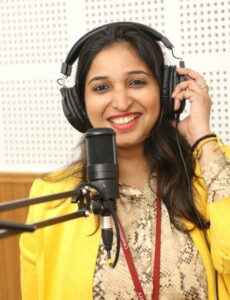 RJ Geet while interacting said that All around the world, February 13 is dedicated to an all-important medium that existed even before television sets and computers made their way into our lives. World Radio Day is celebrated as the mass media reaches the widest audience in the world, she said.
She said Radio has played a key role in disseminating information to people in remote corners of the world in times of crisis including the ongoing Covid pandemic. Radio has remained the most resilient and far-reaching medium of communication even in the time of innumerable online platforms and WhatsApp, she added.
She explained that Indian youth are learning everything through innovative online radio programs, not as listeners but as content producers, creating and sharing their voices with the world. Later she also motivated students to build their career as radio jockey.