New Delhi, October 01, 2021: Rajinder Premi a social activist and the eldest son of Amar Shaheed Sarwanand Kaul Premi, the well known litterateur, freedom fighter, ,Philanthropist and Gandhian had a meeting with Manoj Sinha the Lt. Governor of J&K UT at New-Delhi today.
At the very outset Rajinder Premi expressed deep sense of gratitude to LG Sinha for remembering his late father's service's and sacrifices during the freedom struggle, in his Independence Day speech at Srinagar recently. Rajinder Premi presented a set of books authored by his father including Urdu translation of Srimad Bhagavad Gita and Nagri Koshur Ramyana to Manoj Sinha.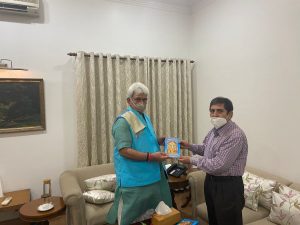 He interalia brought to the notice of the LG the circumstances leading the kidnapping and assassination of his father and brother. While bringing the tragic and pathetic conditions of the family arising out of the compelling situation forcing them to migrate from the Valley, kidnapping and assassination of the two major heads of the family, ransacking and looting of the whole house was a severe blow to the belief of the family and only in this backdrop the family was compelled to migrate for safety and security elsewhere.
Rajinder also informed the LG about the promises and assurances made by the successive Governments who have failed miserably in keeping them up. Finally SHRC J& K in 2012 in its judgement ordered certain valid recommendations. But neither they have been translated into action so far, nor the decisions taken in the high level meetings of the Government were implemented.
Rajinder informed the LG that the construction of a community/ cultural centre in the native place of late Premi Soafshali Kokernag, a commitment by the Government besides the grant of befitting commemoration to the late Premi and his martyred young son Verinder. The LG assured that all will be looked into sympathetically.