Jammu, October 03, 2021: The building of Consortium of Self Financing professional Arts & Science Colleges, Tamilnadu was inaugurated by Dr. Anshu Kataria, President, Federation of Self Financing Technical Institution (FSFTI), All India; President, Punjab Unaided Colleges Association (PUCA) & Chairman, Aryans Group of Colleges, Rajpura Near Chandigarh in Chennai.
The event was organized under the leadership of Shri R. S. Munirathinam, Chief Patron, FSFTI. Dr. Rev K.V.K. Rao (Andhra Pradesh), General Secretary, FSFTI was the special guest. Dr. P. Selvaraj, Treasurer, FSFTI & Prof. A. Kanagaraj, Vice President, FSFTI were present on this occasion. Over 100 delegates from various part of country participated on the occasion.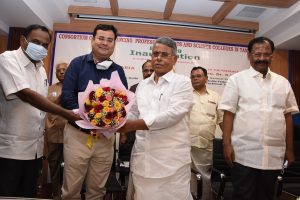 The consortium building having 5000 sq ft buildup area, 2000 sq ft parking area & an auditorium with a sitting capacity of 100 people has been constructed with an investment of Rs 15 Crore.
On the other hand, Dr. M.P. Poonia, Vice Chairman, All India Council of Technical Education (AICTE), New Delhi while congratulating the federation in a video message said that Tamilnadu state has set a great example & other states should also come forward.