Srinagar, July 19, 2021: As a part of its public outreach programme, a series of Police Community Partnership Group Meetings (PCPG) were facilitated by Police in Budgam, Bandipora and Kulgam. The meetings were held while following social distancing norms and other Covid protocols.
In Budgam, the PCPG meetings were facilitated at PS Chadoora, PS Khansahab and PS Khag. The meetings were chaired by concerned jurisdictional officers and were attended by civil society members, shopkeepers, Auqaf Committee members, Khateebs and other citizens of the areas.
In Bandipora, a PCPG meeting was facilitated at Wular Vintage Park Bandipora and chaired by DySP PC Bandipora alongwith other officers. The meeting was attended by civil society members, elected representatives and other citizens of the area.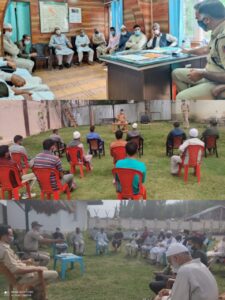 Similarly, another PCPG meeting was facilitated by Kulgam Police at PS Qazigund. The meeting was chaired by SDPO Qazigund alongwith other officers and attended by respectable citizens of various areas falling within the jurisdiction of PS Qazigund.
During these meetings, the participants raised various issues and the chairing officers assured the participants that their genuine grievances pertaining to Police will be resolved on priority and the issues pertaining to civil administration will be taken up with the concerned departments for their early redressal.

During these meetings, the main focus was laid on the adherence to Covid appropriate behaviour especially on eve of Eid-ul-Adha and the participants were requested to avoid congregational prayers on the occasion so as to contain the spread of highly contagious Covid-19. Besides, cooperation was also sought from the participants to root out the menaces of drugs and other social crimes from the society.
While appreciating the efforts of Police in facilitating community interaction meets where participants express their opinion freely, the participants assured their full cooperation to Police in tackling social evils.