Handwara, February 20, 2021: Handwara Police in collaboration with Government Degree College Handwara held a day-long drug de-addiction awareness programme at Govt Degree College Handwara.
SP Handwara Dr. G.V. Sundeep Chakravarthy-IPS was the Chief Guest on the occasion. He was accompanied by ASP Handwara Shri Mashkoor Ahmad-JKPS and DySP DAR Handwara Shri Abdul Raqeeb-JKPS.  Besides, teaching and non teaching staff of GDC Handwara, Doctors from Govt District Hospital Handwara, Students from GDC Handwara and other educational institutions, Chairman Municipality Committee Handwara, members of Civil Society were also present on the occasion.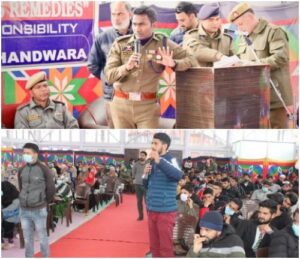 While speaking on the occasion, SP Handwara said that the issue of drug abuse is a challenge before the country. It is the duty of all stakeholders to join in creating awareness about the illegal use of drugs and the measures to be taken to eradicate this menace from the society. He also said that substance abuse has affected human rights in every aspect. He appreciated the participants for their participation in the event to get aware about the ill effects of drugs and also cooperating Handwara Police in organizing such programmes which will prove to be useful in the long run.
He also said that to eradicate the menace of drugs from the society, public cooperation is necessary and stressed upon the participants to share such information with Police, so that Police can act swiftly.  He also appealed the participants to cooperate Police in identifying drug addicts in their locality, so that they can be counselled in better ways.
During the event, the participants demanded for more such programmes in Handwara to which the chief guest assured all possible assistance. SP Handwara said that for the betterment of youth of J&K, Police always remain on forefront.  During last year, Handwara Police has organized many sports events so that the constructive activities could be developed among the youth.

On the occasion, the members of civil society, teachers and students also spoke & highlighted the causes and consequences of drug abuse and assured their possible support and cooperation for a peaceful environment.
At the end, prize distribution ceremony was also held and winners were facilitated with prizes.