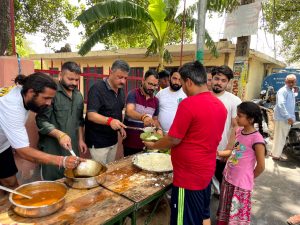 Jammu, June 15, 2022: Senior Photojournalist and social activist Raman Raina alongwith Team Jammu and Bharatiya Janata Yuva Morcha (BJYM) today organised a mass langar at Radha Krishna Temple Paloura Chowk on the occasion of Sankranti where over 1500 people were served langar by the activists.
The Langar was opened by Chairman of Team Jammu, Zorawar Singh Jamwal in the presence of J&K general secretary BJYM, Rajat Singh Manhas.
Locals of Paloura appreciated the gesture of Raman Raina, Team Jammu and the BJYM for taking the initiative and reviving the old tradition of serving those needy sections of the society on religious occasions.  Speaking on the occasion, Zorawar Singh Jamwal said, "It is our duty to celebrate religious occasions in a big way so as to pass on the culture and ethos to the younger generations. Though this small gesture, we also pay respects and remember our ancestors."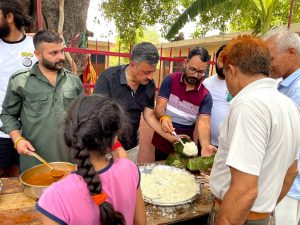 Later, Raman Raina said that Langar was organised for the first time and the response was encouraging, so it has been decided to make it an annual feature. Other members of the langar organising team included Happy Singh Jamwal, Ravinder Singh, Rohit Singh Chib, Anmol Dhar, Parveen Singh, Rajinder Singh Chib and Vishal Singh, Arun Singh Manhas, Balbir Singh Manhas.