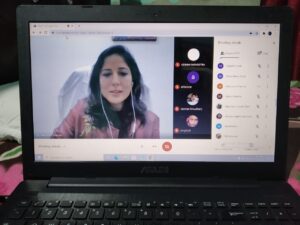 Jammu, January 23, 2021: One week online student induction program for B.E- first year students, 2020 batch organized by the student induction program cell, GCET under TEQIP-III started on 18th Jan 2021 and was concluded on 22nd Jan 2021. The program was organized under the chairmanship of Mr. Talat Pervez Rohella, commissioner secretary to government higher education department, J&K UT.
The programme was initiated by Dr. Anita Brar, coordinator for Student induction program presented inaugural address wherein she highlighted the  purpose of  conducting this programme for overall development of personality of students for living a purposeful and constructive life.
Dr. Sameru Sharma, Principal GCET, while speaking on the occasion encouraged the students to participate in various activities that  are conducted in the institution from time to time to instill the humanistic values, philanthropic spirits and overall nurturing of good instinct.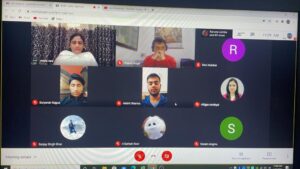 The focus  of the induction program is to acquaint the naïve students to the new setting, new environment and help them to boost their confidence,  creativity, inventiveness, motivation to work for excellence, regulate time management, development of interpersonal relationships and leadership skill.
The program was followed by lectures and interactive sessions by experts and eminent speakers from reputed institutes/ companies across the country. Several questions and queries were raised by the students during interactive session and  were answered amicably  by  the experts. All the sessions were interactive, motivating and insightful. "Relevance of Human Values in life" was strongly advocated by Mr. I.D. Soni ( former Dy. Director School Education Department) & Prof. Amit Paul (Associate Professor, MAM PG College). Lectures on " An Introduction to communication and its effectiveness in management" by Dr. Nancy Handoo (former Associate Professor, NIT, Srinagar) gripped the attention of all the students. " Motivational and Behavioural changes" by Dr. Manjushri Sharma (Assistant Professor in UIAMS, PU, Chandigarh) filled the students with positivity to accept the challenges in life and move on with perseverance.  Digital ethics by Ms. Rachita Sambyal (Assistant Professor in UIAMS, PU, Chandigarh)  familiarized  the students with the ethical practices prevalent in the digital world and "Blogging" by Mr. Arush Mahajan (CEO of   via ENS,  INRDeals) motivated  students to give impetus to their creative pursuits.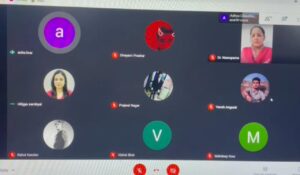 Enlightening lectures on  "Stress management during COVID-19 pandemic" by Mr. Saleem Khan (STD NIC J&K UT ) mesemerised the students  &   a session by Dr. Qazi Naveed Ahmed (Principal Scientist, IIIM Jammu) on "Anti Body Drug"  was well received and stimulated the minds of the students. Energizing lecture on  "Discover yourself" by Er. Pankaj Sharma promulagated  the knowledge of true self for self actualization. Deliberations by Dr. Meenakshi Dutt Sudan (Administrator Sudan Heart Care Centre, Jammu) on "LifeStyle Diseases"  involved students for better health, sound body and mind and another immediate attention grabber  session was  by Dr. Rahul Kait ( Sr. Assistant Prof. GGM Science College)  on "An overview of alarming aspects of pollution" .
The faculty from GCET also hold sessions on various topics .  "Stress management through yoga" by Dr. Veena Rani, "Technology Management" by  Dr. Ajay Abrol and "Physical Practices in Cyber Security" by Er.  Neeraj Dubey, "Soft Skills for Personality Development" by Dr. Romika Sudan were  all appreciated by the students.
The program was attended by around 300 students. The organizing team comprising of Dr. Dina Nath, Dr. Raman Gupta, Er. Malkyat Singh, Ms. Om Jyoti, Er. Munish Mr. Rahul Raina and Er. Nitigya Sambyal were all coordinated for the smooth conduct of the programme. The valedictory address was given by Dr. Anita Brar, coordinator of the programme.  Dr. Romika Sudan read out the report whereas Dr. Neerupama presented formal vote of thanks.