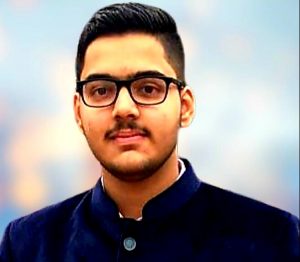 Jammu, November 21, 2021: A young writer Sahaj Sabharwal from Jammu division has recently published his second book titled "Pedagogical Thoughts Made Facts". The name of his first book was "Poems by Sahaj Sabharwal" that was published when he was 17 years old student of DPS, Jammu.
Sahaj Sabharwal , a resident of Pacca Danga area of Jammu city who is an Aeronautical Engineering student now, has already published his first book "Poems by Sahaj Sabharwal" before two years.
Sahaj during an interaction said that the book Pedagogical Thoughts Made Facts by Sahaj Sabharwal contains poetry, thoughts, quotes, poems, stories as well as articles .
"The main aim of my writing is to create awareness about social evils, their consequences and how they can be eradicated besides that it is for the youth to develop a positive mindset in them" Sahaj Sabharwal said.
Apart from writing, Sahaj is also writing and singing rap songs on different social issues like rape, poverty, child labour and other things, he said.

He has got several awards at mega stages for his writing which includes few awards at national and international level too.
" I mostly write motivational thoughts and on touch social issues " he said, adding my writings are regularly being published in many newspapers and magazines.
He said that there is no need to update your view just be you and try to prove yourself beneficial for your society in whatever you can.
He said that religion should not become barrier for us and irrespective of religion we should get united and fighting jointly in eradication of social evils.
He added that a person should not hide his problems, in form for Inner Voice, a poem written by him in the book Poems by Sahaj Sabharwal as it can have dangerous consequences rather we should fight all problems bravely.
Author of Books
1) Poems by Sahaj Sabharwal  
2) Pedagogical Thoughts Made Facts
● Budding Author & Writer 
● Singer & Rapper
● Motivational Speaker 
● Social Worker