Jammu January 17, 2021: Biography of Dr. Masud Ahmed Chaudhary former Vice Chancellor of BGSB University compiled by Ghani Ghayoor and Dr Shams Kamal Anjum  was released at  Gurjardesh Charitable Trust auditorium  here this afternoon former Chief Minister Dr Farooq Abdullah –at a mega event attended by all sections of society in Jammu on Sunday. Several former Ministers, former legislators, notable citizens of society, political leaders and former colleagues of Mr Chaudhary from the Police department were among those who attended the event.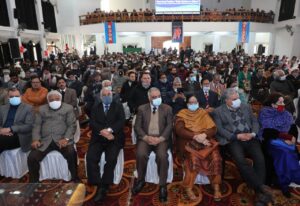 On the occasion  Masud Chowdhary was also conferred with the "Fakhr-e-Qaum-wa-Millat" –a lifetime achievement award instituted by the Gurjardesh Charitable Trust for his contributions in awakening of Gujjar community and establishment of Baba Ghulam Shah Badshah University as VC.
On virtual mood Leader of Opposition in Rajya Sabha and former Jammu and Kashmir Chief Minister Ghulam Nabi Azad and former Jammu and Kashmir  Sadar-e-Riyasat Dr. Karan Singh and Ex-Governor NN Vohra also spoke on the occasion. While Mr Azad joined the gather via video link, Mr Vohra had sent a pre-recorded audio for the occasion. Azad and Vohra recalled their personal association with Mr Chaudhary and described him as an extraordinary leader in which whichever role he took.
On this occasion a biographical account, in the shape of an Urdu book, on the life and contributions we Dr Masud Chaudhary was also released. The book explores the life of Mr Chaudhary and his contributions in Police department, in service of the Gujjar community and as an institution builder.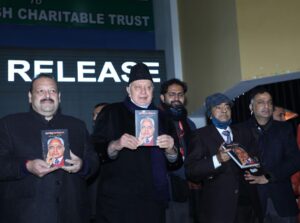 Widely known as Sir Syed of Gujjar Community for his untiring efforts in areas of social and educational awakening, Dr Chaudhary retired as Additional Director General of Police in 2004. Soon after that he was appointed as founder Vice Chancellor of the Baba Ghulam Shah Badshah University in Rajouri where he spent two tenures. He shaped up the university on modern lines and ensured that the institution carries on a secular outlook.

Recalling his maternal origin in the Gujjar tribe, Dr Farooq Abdullah said that despite multiple efforts the community is still facing innumerable difficulties. He lauded Masud Chaudhary's contributions in social and educational awakening of the Gujjar community.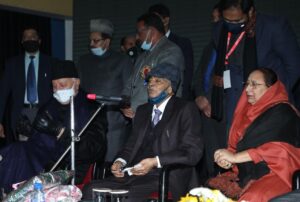 Dr Masud Chaudhary draws his inspiration from one of India's foremost social and educational reformers like Sir Syed Ahmed Khan, the founder of Aligarh Muslim University, Madan Mohan Malaviya, the founder of Banaras Hindu University and Sir Chhotu Ram.
As there was only sixteen graduates among Muslims when Sir Syed Ahmed Khan picked educational movement as his life's mission, Chaudhary said, while drawing an analogy, "when I returned as a graduate, there were only three Gujjars in entire Jammu and Kashmir who had attained that rare achievement". He said Gujjars have worked tremendously hard to create some space in the society while a lot still needs to be done.
Masud Chaudhary gave an inspiring account of his journey in building the Gurjardesh Charitable Trust as in iconic institute of nationwide recognition and the establishment of Baba Ghulam Shah Badshah University in his capacity as founder Vice Chancellor.
On the occasion a documentary  by Dr Javaid Rahi on the life and contributions of Dr Masud Ahmed Chaudhary was also screened.
Upon the launch of biography, Masud Chaudhary took leave from his position lifetime chief patron of the Gurjardesh Charitable Trust and nominated the current chairman Hameed Choudhary as chief patron.
Dr. Hameed Chowdhary Chairman GDCT welcomed the guests and highlighted the contribution of Masud Chowdhary for Tribal Society.While Arshad Chowdhary conducted the Programme.
On the Occasion Member Parliament Hasnain Masoodi, NC leaders  Divender Rana, Mustafa Kamal, Javed Rana , former Minister Abdul Ghani Kohli, Ch Talib Hussain were also in the presidium.