KARGIL, JUNE 16, 2021: In continuation with the ongoing governance at doorstep programme, Department of Labour Kargil under the supervision of the Assistant Labor Commissioner (ALC) Kargil Raziya Khatoon conducted a week long verification of newly registered laborers through the Sarpanchs, Panchs, Nambardars of various villages like Parkachik, Sangrah, Thangdumbur, Nagma Kousar, Khalamarpo, Lankarchay, Faroona, Saliskote, Gond Mangalpore and Choskore of Sankoo Sub Division.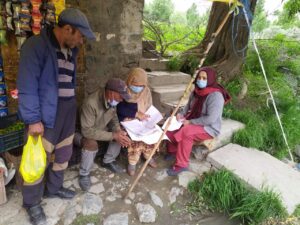 The verification of laborers was also conducted at Paskum, Darket, Wakha, Shargole, Bodhkharboo, Stakchay, Khangral, Samrah, Hagnis and Chiktan of Shakar Chiktan Sub Division besides Akchamal, Yourbaltak, Apati, Barchay and Lhalung of Sodh Block.
Besides the verifications process, the department also enlightened the Sarpanchs, Panchs, Nambardars and the local inhabitants about the registration process,  schemes and benefits to the laborers under different government schemes.