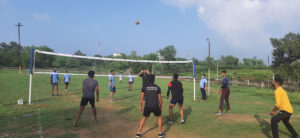 Jammu (Samba), July 21, 2021:
Aiming  to  take sports culture at village lavel, Jammu and Kashmir Sports Council in collaboration Maharaja Pratap Singh Sports Club Birpur organised A volleyball tournament in four teams  at village  BIRPUR today.
First  match of the day was played between Rama Youth Volleyball Club and Dhrona Tiger Volleyball Club, both the team displayed their best game but Roma Youth Volleyball Club clinched by 20-15.
In the second match, Maharaja Pratap Singh sports club BIRPUR won by 3-2 games against Kundanapu volleyball club.
Final Match was played in between Maharaja Partap singh volleyball club BIrpur and Rama youth club  kaharamadana. In close contest the match was won by Rama club by 3-2 sets.
The Volleyball match was inaugurated by Vikram  Randhawa, EX. MLC and Anil kumar Sharma Sarpanch kara Mandana was the guest of honour.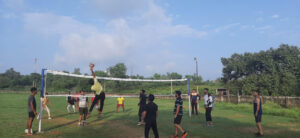 The objective of this event is to promote sports in village level,to educate and motivate the youth towards sports for their betterment.
Others who were part of the matches included Satpal Singh, Football Coach, JkSC , Rajiv Sharma Senior Player, Vikram Krishan Senior National Judo Player, Tara Chand Senior Volleyball Player, Narinder Singh Veteran Player besides others.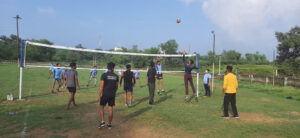 The matches was organised under the overall supervision of Ashok Singh, Divisional Sports Officer, J&K Sports Council, Jammu.
Efforts of sports council to educate the 1st time village youth is appreciated by all rank and file as the 15 selected young players from the concerned teams were invited at M A Std.for further coaching under SPORTS COUNCIL experts.