Leh, July 15, 2022: His Holiness the 14th Dalai Lama was accorded a warm welcome by the people of Ladakh on his arrival in Leh today. It is the first visit of His Holiness outside Dharamshala post Covid-19 outbreak.
His Holiness expressed happiness for being able to visit Ladakh once again and appreciated the warm heartedness and friendship shown by the people of Ladakh.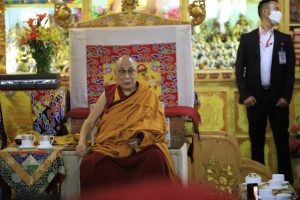 Ladakh Buddhist Association, Ladakh Gonpa Association, LAHDC Leh and UT Administration, Heads of various religious organisations, other dignitaries and guests and stream of public queued from Kushok Bakula Airport to Jive-tsal to seek blessings from His Holiness.