Jammu, July 04, 2021: A free Covid-19 vaccination camp was organised today at Aryans Group of Colleges, Rajpura Chandigarh in association with the Department of  Health & Family Welfare, Government of Punjab at Aryans Campus.
The vaccination camp was inaugurated by Dr. Kushal Deep Gill, Senior Medical Officer, Community Health Centre (CHC), Kalomajra & Dr. Anshu Kataria, Chairman, Aryans Group. In this COVID-19 vaccination camp, 1st  dose was administered to around 100 persons belonging to 18 & above age group including students, teaching & non teaching staff along with people from nearby region.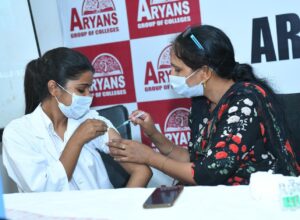 The camp was led by Dr. Gurmehar Singh, Medical Officer & Dr. Neha Puri, Ayurvedic Medical Officer. The  Paramedical team including Ms Shailza, Community Health Worker; Ms Jaswinder Kaur, Multipurpose Health Worker;  Ms Amandeep Kaur, Lab Technician, Manmohan Singh etc were also present in camp. Among students & staff members, along with vaccination, awareness on the rapid spread of the viral infection and the safety measures to be taken was also created.
Dr. Kataria while thanking  Capt. Amrinder Singh, Chief Minister, Punjab & S. Balbir Singh Sidhu, Health & Family Welfare Minister, Punjab for providing free Covid vaccination said that the  initiatives of the health department and the district administration are highly appreciated. It is now the social responsibility of  every individual to reach at camps and help the administration in preventing the third wave of the pandemic, added Kataria.
Dr. Kushal Deep said the camp was held as per the guidelines issued by the Punjab Government. Every person above 18 years of age must get vaccinated as early as possible, he stressed.