Feature Stories
Kargil
Ladakh UT
News
Trending
Flash flood aftermath: District Administration Kargil taking all requisite measures for restoration of essential services, relief and rehabilitation of affected families
KARGIL, JULY 30, 2021: In the aftermath of mudslides triggered by the recent flash floods in various parts of the district including Khawos, Sangrah, Khangral, Tsaraks, Barsoo and other affected areas, the District Administration Kargil is taking all requisite measures for the restoration of essential services and on-spot assessment of damages to provide relief and rehabilitation to the affected families.
While adequate number of manpower and machinery have been deployed to carry out the clearance of debris from the major and internal roads, restoration of power and water supply, irrigation khuls and bridges, joint assessments are being made by the team of officials to assess the extent of damages to residential buildings, agricultural fields, standing crops, trees and livestock.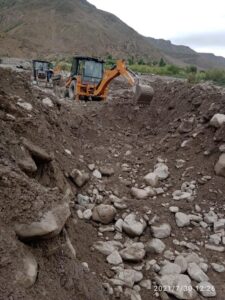 Power supply has been restored in affected areas including the villages from Sangrah to Tangole as well as Pashkum, Stakchay and Thasgam Sankoo.
All the affected families of Khawos area have been shifted to PWD rest houses and  government quarters at Tai-Suru where they are being provided satisfactory boarding and lodging facilities.
For immediate restoration of link roads, debris clearance on the Stakchay Broq and Mundik link roads, link roads of Heniskote, Bartoo-Pangbar, Tsaraks, Mangbore and other affected roads are going in full swing by the R&B and PMGSY departments.

Meanwhile, Kargil-Zanskar Road NH-301 was re-connected for vehicular traffic today afternoon after debris clearance measures by the NHIDCL, Bartoo-Shargandi road was also restored for traffic by SVD Sankoo.