Jammu, 15 October, 2021: Chai Sutta Bar, a brand known for Spreading Taste of Kulhad Chai across the country, today announced its launch of yet another outlet in the city of Jammu known for its small-scale and cottage industries of  India, now will have an added flavour of Kulhad Chai adding love to the culture of the country with the brand new outlet of Chai Sutta Bar in the city. With this launch, the brand now has a total of 195+ franchise outlets across 95+ cities in India & along with countries like Oman, Dubai & impending outlets in the USA, UK & Canada. The huddle to Cuddle the Kulhad was remarkable with a wonderfully warm welcome over the streets on its launching day.
With a motive to spread the intoxicating icon "Kulhad Chai" worldwide, the brand chose to keep its quality high & pricing nominal to retain the pocket tight and heart light with the aroma of Chai. The beautiful blissful blessing of Chai has made a sweet spot in the hearts of all those who cherish it with a shimmery shining smile on their faces. The brand hails its origin from the heart of Madhya Pradesh's Indore city known for its heritage and cleanliness. Chai Sutta Bar aims to provide the same cutting Chai with the luxury of ambience clubbed with taste.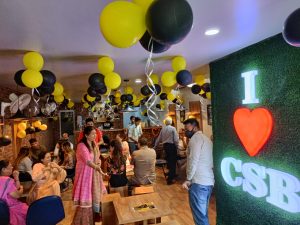 The rich legacy of Kulhad was gradually lost and "Chai" took a backseat. Keeping that in mind, a contemporary rendition of the chai bar, offering Kadak chai on the bar table with no "sutta breaks", hygienic and eco-friendly Chai was born in July 2016 at Indore under this concept. Chai Sutta Bar sells more than just tea; it also sells vibes, which attracts the younger generation.," said Anubhav Dubey, Co-founder, Chai Sutta Bar on the launch occasion.
The CSB team has worked hard to take the brand across oceans with their spirits and heads held as high as possible. The enticing idea of serving Chai in Kulhad's spread like wildfire, attracting individuals from all walks of life. Over 3 lakh Kulhads are used every day, and the numbers don't seem to be stopping.
The mission of CSB in using soil-based Kulhads is to protect our Mother Earth from dangerous plastic toxins.