Leh, Aug 01, 2021: Executive Councillor for Animal/Sheep Husbandry, Tashi Namgyal Yakzee visited the Foot and Mouth Disease (FMD) affected areas of Hanu Phoo of Skurbuchan Block yesterday. He was accompanied by Councillor Skurbuchan, Lundup Dorjay, BVO Sheep, Animal Husbandry Officer Khaltsi, Sarpanch and Nambardar of Hanu village during the visit.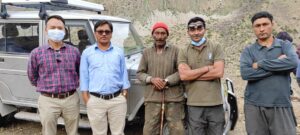 Hanu Phoo is located at a distance of 180 Km from Leh and around the locals have around 4000 Livestocks which includes goat, sheep and cattle.
During the visit, EC Tashi interacted with the livestock herders of the community affected by FMD as well as field functionaries of the Animal and Sheep Husbandry Department camping at the location for treatment of the affected animal flocks. He was informed that mortality rate has reached around 150 including sheeps, goats and cattle.
He was also apprised that the situation has been stabilized in the affected area and adequate medicines are available as of now. He was further informed that field staffs have been deputed at the site for the last 15 days and all the nearby unaffected livestock in the vicinity have been vaccinated against FMD.
More than 20,000 cattle and 2 lacs sheep/goats in the Leh District are vaccinated till date and the remaining animals are targeted to be covered within 15 days.
EC Tashi instructed both the departments to make further arrangements for additional feed and fodder for the affected livestock of the village.