KARGIL, JULY 03, 2021: Executive Councilor for Tourism Er Punchok Tashi along with the Executive Councillor for Health Mohsin Ali today visited Sharchay Rzongi Kor Cave Batalik, Shashi Lake and Aryan Valley to assess the status of the execution of tourism related infrastructure development works approved under State Sector Budget and SDP.
During his maiden visit to the Rzongi Kor Cave at Sharchay Batalik after trekking 4 kilometers from Chulichan, EC Phunsok Tashi said that the cave is a wonder in reality and one of its kind of largest caves in Ladakh.
EC Tashi added that the sole purpose of the visit was to explore the possibilities of the cave as a tourist attraction site and considering the magnanimous and mysterious structure within the cave, there is strong possibility that tourists and adventure lovers from across the world will come here.
The EC Tourism on the ocassion assured that after proper deliberation with the concerned departments, a project proposal will be framed in near future besides necessary measures will be taken to facilitate access to the cave, improve the infrastructure and required promotion in terms of print and audio-visual form will also be done to publicize the mysterious cave far and wide.
The EC Tourism also interacted with locals and listened to their demands, issues and developmental needs mainly pertaining to telecommunication, road connectivity, education, drought management and health.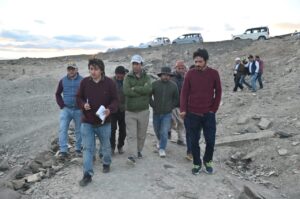 The EC Tourism assured the locals that all issues will be taken up with the concerned authorities and departments for suitable follow up.
Later, EC Tashi also visited Shashi Lake to take stock of the status of the execution of works on the approved projects including the construction of public convenience and cafeteria near the lake. He said that Hori-Chumik will be a feasible spot for the construction of public convenience and cafteria for the visiting tourists.
Meanwhile, a public delegation of Shakar Chiktan urged the EC that the construction of artificial lake at Pilung Thang can reduce the drought like conditions at Yukma Kharboo, Sandow and adjacent areas.
The EC Tourism assured to take all possible measures in this regard.
EC Tashi also visited the construction site of Sindhu Ghat at Garkone, and directed the concerned officers to erect the Aryan Valley Gateway at Thuyur Batalik.
Chief Executive Officer, Kargil Development Authority (KDA) Abdul Gaffar Zargar, Assistant Director Tourism Aga Syed Toha, Executive Engineer KDA Sajjad Hussain Wazir, AEE KDA Muhammad Sidiq Var, Architect Fayaz Ali and Er Arif Ladakhi besides other concerned officers accompanied the EC Tourism during the visit.