KARGIL, JUNE 14, 2021: Executive Councillor for Works Aga Syed Abass took a review meeting of various departments at Council Secretariat here today.
Assistant Director Tourism Aga Syed Toha, Assistant Labour Commissioner Raziya Khatoon, District Superintendent Handloom Department Ansar Hussain, representatives of Kargil Development Authority (KDA), Handicrafts, Soil Conservation besides other concerned officers attended the meeting.
During the course of the meeting, EC Syed Abass expressed satisfaction over the functioning of the departments and instructed the officers to work with missionary zeal and dedication to provide more benefits to the general population.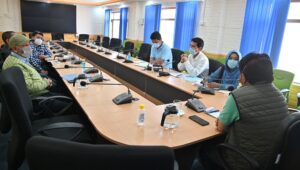 ALC Raziya Khatoon informed the meeting  about various types of assistance being provided to labourers like financial assistance, scholarships, health assistance, death assistance and maternity benefits etc. She further informed that the Labour Department has distributed Covid Assistance to registered workers @Rs1000 per month and also said that free ration is also being distributed among non local laborers.
Regarding the various schemes of Tourism Department, the AD Tourism Kargil informed the EC about various incentive rules and schemes available for hotel and guest house owners. He further informed that 80 guest houses have been given incentives in the district.

The representative of KDA informed the EC that the department under various schemes aims at infrastructure development for tourism, preservation of heritage sites, construction of public conveniences, and cafeterias.
The District Superintendent Handloom Department Kargil informed that there are 5 training centers of the department functional in the district presently imparting training in weaving, spinning, knitting, and tailoring.
Similarly, the Handicraft Department representative informed that there is scope for development of museum and craft villages to promote handicrafts in the district while the Soil Conservation department representative informed the EC about various works undertaken by the department like nallah training, snow land protection works, water harvesting structures, artificial glaciers, development of natural streams, zamindari khuls and other related works.