KARGIL, MAY 31, 2021: Executive Councillor for Health Muhammad Ali Chandan who is also the Councillor of Shargole Constituency in the LAHDC, Kargil today chaired the 2nd round of meeting of the Educational Committee of Shargole Constituency to discuss the conduct of community and online classes in the area in view of the COVID-19 pandemic.
The Educational Committee was framed in the month of December, 2020 for upliftment of educational standards of the students of Shargole Constituency.
Chief Education Officer Kargil, Nazir Ahmad Wani, Zonal Education Officer Shargole, Naib Tehsildar Shargole, Principal Government Higher Secondary School Shargole and educated youth members of Shargole Block attended the meeting.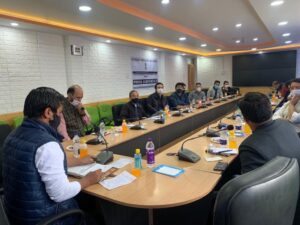 Detailed discussion was held on various issues related to conduct of community classes and online classes for students in Shargole area during the current COVID-19 pandemic situation especially in those areas where internet connectivity is not available at present.
The Chief Education Officer, Kargil informed that the Education Department is going to distribute tablets with pre-loaded contents to the students from class 6th to class 12th in next 10 to 15 days, adding he said that this will help students to learn their lessons even in case of the non availability of mobile phones.

EC Muhammad Ali Chandan, concerned officers and youth representatives of Shargole area gave various suggestions with regard to running of community and online classes.
It was decided during the meeting that a final round of meeting will be shortly conducted with the committee members constituted for the purpose, so that the final proposal could be shared with the Education Department and the District Administration.