Jammu, February 14, 2021: In the onset District  Football Premier League J&K, the 27th & 28th matches of the league were played today on 14/2/2020 at G G M SC. COLLEGE FOOTBALL GROUND.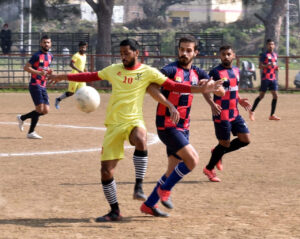 The first match of the day played in-between Sheen F/C & vijay club wherein SHEEN F/C overpowered the vijay club by the margin of 3-1 in a neck to neck fight.
Mr RAJESH, ANKIT Gupta & Machdonnalds played their natural, fair & square game in the Match & scored 1 each golf for the club .
Mr.Dushant was the single one player who netted the ball for VIJAY CLUB.
In the 2nd  football match of  14th day was played in-between Hero F/C & Sainik Colony Fc, both the team played well and ended up with a draw by the margin of 1-1 goal. The goals were scored by Mr. Raghav Gupta -Hero Fc and Mr. Amritpal Singh- Sainik Colony Fc.
The match was conducted under the overall supervision of Mr. Ashok Singh-Divisional Sports Officer, J&K Sports Council, Jammu and Mr. Satpal Singh- Chief Football Coach (A-License).
The technical panel of the day was Mr. Dheeraj Menia, Mr. Aman Banathia, Mr. Abhishek, Mr. Rockey, Mr. Satnam Singh and Mr. Dil Bahadur Singh.