Reasi, July 24, 2021: In a drive against illegal mining and to tighten noose against the economic offenders, Reasi police has initiated strict action against the criminals involved in minting money out of the public resources by illegal mining.
With the help of police sources & public representatives, police teams of Reasi Police inspected at different locations during last two weeks and seized 12 Vehicles engaged in illegal mining during night hours.
Six Vehicles Seized in night long surprise operation which was carried out at different locations on the rivulets and tributaries of perennial river 'ANS' (Badhora Nallah, Tharal-Ganjote) and various other spots in sub division Mahore bearing registration numbers Dumper A/I CH. No 06536 of Aijaz Ahmed S/O Mohd Quyoom R/O Bathoi, JCB- JK 20B 3620 of Mohd Qayoom S/O Abdul Rasheed R/O Bathoi, Tractor CH-No 13201 of Mohd Quyoom S/O Ali Mohd R/O Sarh, Extractor Machine, Tractor A/F of Abdul Rashid S/O Ali Mohd R/O Dhami, Tractor A/F 855 of Mohd Altaf S/O Mohd Mushtaq R/O Bhall loaded with minerals illegally extracted from various Nallahs during the dark of night in remote locations of Mahore Area.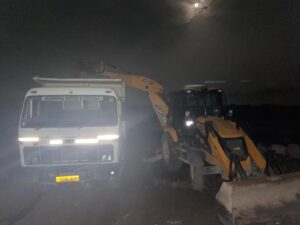 In Chassana area 01 Crusher Machine of Hilal Ahmed S/O Bashir Ahmed R/O Anantnag Srinagar got seized.
Simultaneously team of Police Station Reasi Seized five vehicles  bearing registration numbers tractor JK20B 4470 of Suram Singh S/O Sarnu R/O Gran Bayotran Reasi,
Dumpers  JK20A 8508, JK20B 3211 JCB No. 205  and JCB (4DX) of Shrine Stone Crusher Baradari Reasi involved in illegal mining in another Nallah 'ANJI' of Reasi.
All these vehicles were found being used in illegal mining, extraction and transportation of illegally extracted minerals.
Reasi Police has seized 69 Vehicles involved in the business of illegal mining since April 2021 & booked under Mining Act by the concerned Authorities. A fine of ₹ 10,17,000 rupees slapped upon the violators.