Akhnoor, February 14, 2021:  In a very impressive way to pay tributes to the martyrs of Pulwama Attack volunteers of NGO Umeed donated around 40 units of blood to recognize their sacrifice. The blood donation camp was organized under leadership of Anav Langer President NGO Umeed and Urvi Langer Vice President NGO Umeed. SDM Gopal Singh  was the Chief Guest of the programme where as SDPO Varun Jandiyal, Team Jammu Chairman Zorawar Singh Jamwal were the guest of honors and SHO Akhnoor Ravi Parihar was the special guest of the ocassion. In the beginning of the programme floral tributes were paid to the martyrs followed by a Patriotic singing performance by Rahul and Rohit. A medical team from SMGS Hospital Jammu was available to bleed the blood. Around 40 units blood was donated during the camp.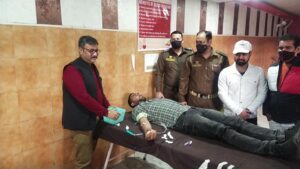 Addressing the gathering Zorawar Singh Jamwal Chairman Team Jammu praised the members of NGO Umeed for their unique way of paying tribute to the Martyrs of Pulwama attack. He assured full support of Team Jammu to the NGO for such kinds of programs. He further appealed the NGO members to carry their initiative to the rural areas spreading awareness in youth regarding drug menace.
Varun Jandial SDPO Akhnoor while recognizing the supreme sacrifice of the martyrs he appealed the civil society to recognize their  sacrifice and appeal them to stand in support of the families of martyrs. He appealed youth to come forward and donate blood for the needful.
Chief Guest Gopal Singh SDM Akhnoor congratulated and appreciated Team Umeed for organizing such blood donation camp in memory of Pulwama Martyrs. He said youth should be inspired from our soldiers. He in his address appealed to the youth to become heroes of society  by following right path in their life. He requested NGO Umeed to continue their positive efforts for the society and assured full support of administration for their programs. He said there is great responsibility on youth to build a prospering nation. He appealed to the members of NGO Umeed to involve more and more members especially from rural areas also to engage them into the positive path of life.
At the end of program appreciation certificates were given to the donors. Anav langer presented votes of thanks to all the guests present during the program. Others present during program are: – Sajal, Suren, Harsh (Event Hosts), Aniket, Anubhav, Rajan, Jatin manni, Saima, Ankita, Suksham, Meetali, Ayush, Siddarth, Dr Abhinandan, Bhupendra Singh, Jimmy Mani, Sham Lal Magotra, Rahul Langer, Arun Chib, Rajesh Sharma etc.