Jammu, January 28, 2021: All Parties Migrants Coordination Committee (APMCC) today called on the Lieutenant Governor Sh. Manoj Sinha at Raj Bhawan Jammu and raised many burning issues of the PM Package employees which include harassment to Junior Assistants, Promotion issues of Junior Engineers, Inter-district Transfers of Couple employees and Accommodation for all the PM Package employees.
The leaders which include Vinod Pandit, Chairman APMCC, King C Bharati, Senior Journalist and National Spokesperson APMCC, Advocate Arun Kandroo, General Secretary APMCC also submitted a representation on behalf of the PM Package employees and discussed the issues threadbare.
The Lt. Governor gave the leaders a patient hearing and assured that their demands and concerns would be taken up and resolved at the earliest.
Here are the excerpts from the representation submitted to Lieutenant Governor Manoj Sinha by APMCC leaders.
The Kashmiri Migrant PM Package Employees are working in Kashmir valley on a special package created exclusively for them and are in a sense ambassadors' of people to people contact for return of normalcy and final and dignified return of Kashmiri Pandits to Valley.

However, there are certain vested interests in the state administration who are hellbent on damaging and failing this visionary step of the government of India by creating unnecessary hurdles in their smooth working under one or the other pretext.
While there are numerous such instances, we bring to your kind attention a few of them which include: Harassment to Junior Assistants recruited in 2017 in RDD, Finance, Planning, Transport, Animal Husbandry etc whose recruitment is on the verge of being cancelled due to the tough stance adopted by these departments seeking clarifications on petty things even as the candidates are graduates and have passed the type tests on merit. Even though other departments have absorbed many such candidates on the recommendation of JKSSB.
Another point for consideration is that of the inter-district transfers of the couple employees which is being delayed since 2018 by GAD despite a clear rule in this regard. The file is pending in GAD under No O.M.No.GAD (ADM)02/2018-III Dated 09/10/2018.
The third point for your kind attention is the snobbish attitude adopted by a few departments by not giving the promotions to their Junior Engineers on flimsy pretexts even though they have been recruited through proper process and are governed by the service rules but their department heads are refusing to give them the benefit saying they are not their employees and are recruited by DMRRR which is totally false.
The fourth Point is regarding the lack of accommodation in Kashmir Valley for the recruited employees which needs to be taken up soon and all employees be given proper accommodation in a time bound manner.
In this regard we urge your Honorable-self to call a meeting of the heads of the departments and the Chief Secretary at your level and sort out the issues urgently as it has put the careers of many young Kashmiri Migrants at stake besides discouraging other youngsters from joining services in Kashmir Valley.
To explain the harassment of Junior Assistants by some of the departments mentioned above we bring to your kind notice that this package is a solace for the Kashmiri Migrants who have lost everything due to terrorism and rules were relaxed to accommodate them as a relief to overcome the economic hardships and begin a return policy of Kashmiri Pandits.
However, at least 30 such Junior Assistants who are graduates and have passed type test with merit are not being allowed to join as their six-month computer course certificates are not being validated due to various reasons.
It is requested therefore to instruct the departments to follow other departments and allow these young people to join as a six-month computer course whether or not from a recognized institute is just a formality in these modern times when everybody knows much of the computer besides having passed the type tests on merit.
Another case of gross violation of human rights, discrimination and harassing tactics of certain vested interests can be viewed from the case of one Rohit Jyotshi which would give your good-self an idea how Kashmiri Migrants are being harassed unnecessarily.
Mr. Rohit Jotshi was selected as JE in R&B (PWD) Deptt in Feb 2015 and since then he was kept in doldrums for five years by the concerned Deptt in pursuance of releasing the recommendation for the same despite of the fact that the post is a CBM for the rehabilitation of Kashmiri Pandits.
After the intervention of then Hon'ble Lt. Governor Sh. G.C. Murmu, the JKSSB passed an order for his appointment in R&B (PWD). A letter accompanying the order passed by JKSSB was also sent to Mr. Rohit Jotshi from the Hon'ble Lt. Governor's office, but more than 6 months have passed and still he is not being allowed to join the office by PWD thus playing with his career.
Ms Payal Thapa D/O Budh Bhahadur Thapa joined services on 15th Oct 2017 but has not received any salary till date despite numerous representations as the concerned CEO does not heed to her pleas even as she is doing her duty regularly. If this is not harassment then what do we call gross violation of human rights.
In the above mentioned cases we had a meeting with the then LG on 10/09/2020 but the no action has been taken till date.
Therefore, we request your august self to intervene personally in the above-mentioned matters and give a ray of hope to those who have joined services in Kashmir Valley under PM Package to support their families and also act as goodwill ambassadors for the Kashmiri Migrant community which will be a big milestone if at all the government wants their dignified and final return to their home.
It may be recalled that PM Package Employees are facing a host of issues due to unfriendly attitude of many top officials who are adopting delaying tactics to resolve their genuine concerns thus creating hurdles in their smooth working in the Kashmir Valley.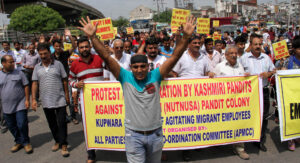 APMCC has taken up the matter a number of times and tried to wakeup the concerned authorities earlier but many issues still remain unresolved.
It is also worthwhile to mention here that APMCC had fought tooth and nail in 2016 at Jammu for the genuine rights of the employees after which government had agreed to give them relaxation in joining the duties which they had to abandon due to large scale violence and unrest in Kashmir Valley.