Srinagar, February 28, 2021: The son of owner of a poplar eatery Krishan Dhaba, located at Dalgate, who was injured in a suspected militant attack two weeks ago, succumbed to his injuries in the wee hours on Sunday.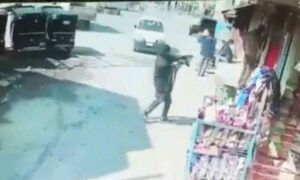 An official said that Aaskash Mehra son of Krishna Dhaba owner Ramesh Kumar Mehra was critically wounded after he was shot at on February 17 near his shop.
He said that Aakash was undergoing treatment at SMHS hospital in Srinagar, where he succumbed to his injuries in the wee hours today.
Aakash was a resident of Janipur area of Jammu and was presently putting up at Dalgate with his family.
They must find why it is happening, try to treat it 
National Conference President and Former Chief Minister of J&K Dr Farooq Abdullah on Sunday said that Centre and LG of Jammu and Kashmir Union Territory must answer how Krishan Dhaba's owner was killed.
He said that DG of police must also answer who every day says militancy has ended in Kashmir.
He said it won't end by anyone claim that it has ended but there is need to find the cause why such incident take place.
He further added that there is need to treat this problem.
He termed the killing son of Krishna dhaba owner's son very unfortunate and asked Centre to find solution of the Kashmir issue so as to end killing. (PTK)