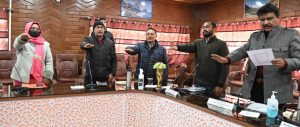 KARGIL, NOVEMBER 26, 2021: Like in other parts of the country, the 72nd anniversary of the adoption of the Constitution of India (Constitution Day/Samvidhan Divas, 2020) was today celebrated with great patriotic fervor and zeal in Kargil.
As a part of the celebrations, Preamble reading ceremonies were organized at the Council Secretariat, LAHDC, Kargil, Conference Hall Baroo Kargil and all the Government offices/ institutions and other establishments in the district where Executive Councilors and Councillors and all the officers and officials of different departments read out the Preamble of the Constitution of India.
The main function in the district was held at the Conference Hall Baroo Kargil where the Chairman and Chief Executive Councillor, LAHDC, Kargil Feroz Ahmad in presence of the Deputy Commissioner and CEO, LAHDC, Kargil Santosh Sukhadeve and all district officers read out the Preamble of the Indian Constitution.
It was stressed upon to uphold and protect the sovereignty, unity and integrity of India and ideals and institutions included in the Constitution.
Speaking on the occasion, CEC Kargil Feroz Ahmad Khan while throwing light on the salient features of the Indian Constitution termed the Constitution as "a living machinery and vehicle of life" and a "holy book" which has guided us in developing India and enabled people to fulfil their aspirations as per their potential. He stressed upon the need to renew our commitment to uphold and practice the principles and values enshrined in our Constitution, adding he said that there is need to study and understand the various aspects of the Constitution and their applicability in our day to day life especially with regard to the fundamental rights and duties of the citizens.

In his address Deputy Commissioner Kargil Santosh Sukhadeve said that Prime Minister of India Narendra Modi made the declaration to celebrate 26th November as Constitution Day on 11 October 2015 while laying the foundation stone of Dr B. R. Ambedkar's Statue of Equality memorial in Mumbai. He also spoke about the role of Dr Bhim Rao Ambedkar and other framers of the Constitution and added that Constitution is not only a legal document but a new lease of life and makes us understand our fundamental rights and duties, adding he urged the officers to study the constitution and also enlighten the younger generation about its various facets especially the fundamental rights and duties.
Meanwhile, on the 72nd Constitution Day, all Government offices/ institutions and other establishments at the Sub-Divisional, Tehsil, Panchayat and Municipal Corporation level also read out the Preamble of the Constitution and expressed their pledge to uphold the fundamental duties.