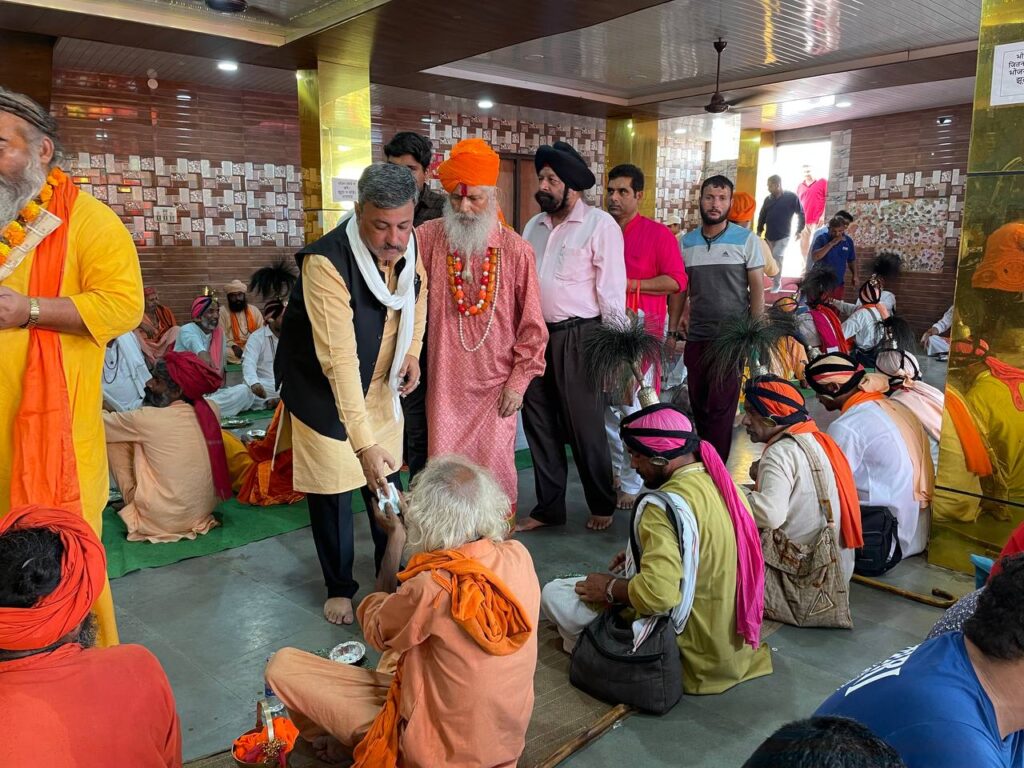 Jammu, September 24, 2023: The 11-day long 54th Shat Chandi Mayagya held at Baba Sidhgoria Temple from September 14 to September 24, 2023 culminated amid chanting of religious hymns, conclusion of Bagwat Katha and mass langer where thousands participated on the concluding day here today.
The culmination of the 54th Shat Chandi Mahayagya witnessed unprecedented rush of pilgrims and devotees who thronged the temple to participate in the Puran Ahuti and mass langar organised by Mahant Kuldeep Singh Ji Maharaj Paloura Wale where many social, political and religious dignitaries marked their presence.
The culmination of the Mahayagya began in the morning with satsang attended by hundreds of devotees which started at Baba Sidhgoria Temple Paloura led by Mahant Shri Kuldeep Singh Ji Maharaj amid chanting of religious slogans and mantras.
The religious activity was followed by special breakfast and langar where devotes took prasad and later Sadhu Samaj who were important part of the Mahayagya were served the langar with great religious festivity.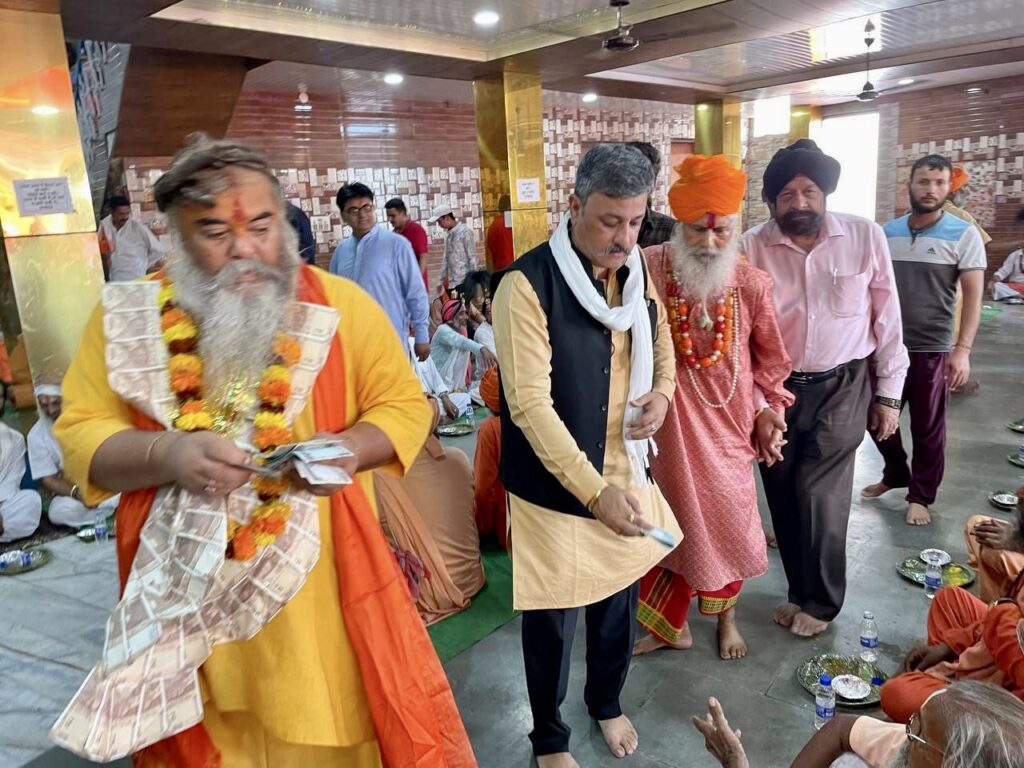 The Puran Ahuti was performed at 12 pm after which the Bhagwat Katha by Mahant Shri Dr. Sat Narayan Dass Ji Maharaj was also concluded followed by Chowki thus culminating the 11 day long 54th Shat Chandi Mahayagya.

It is worthwhile to mention here that the 54th Shat Chandi Mahayagya, Hawan Pujan, Sant Samelan and the Journey to Enlightenment through the religious discourse of Shrimad Bhagwat Katha by Dr. Mahant Shri Sat Narayan Dass Ji Maharaj was organised by Mahant Shri Kuldeep Singh Ji Paloura Wale at Baba Sidhgoria Temple, Paloura, Jammu from September 14 (Thursday) to September 24 (Sunday), 2023 where large number of devotees took part in Mahayagya and listened Shrimad Bhagwat Katha during the programme.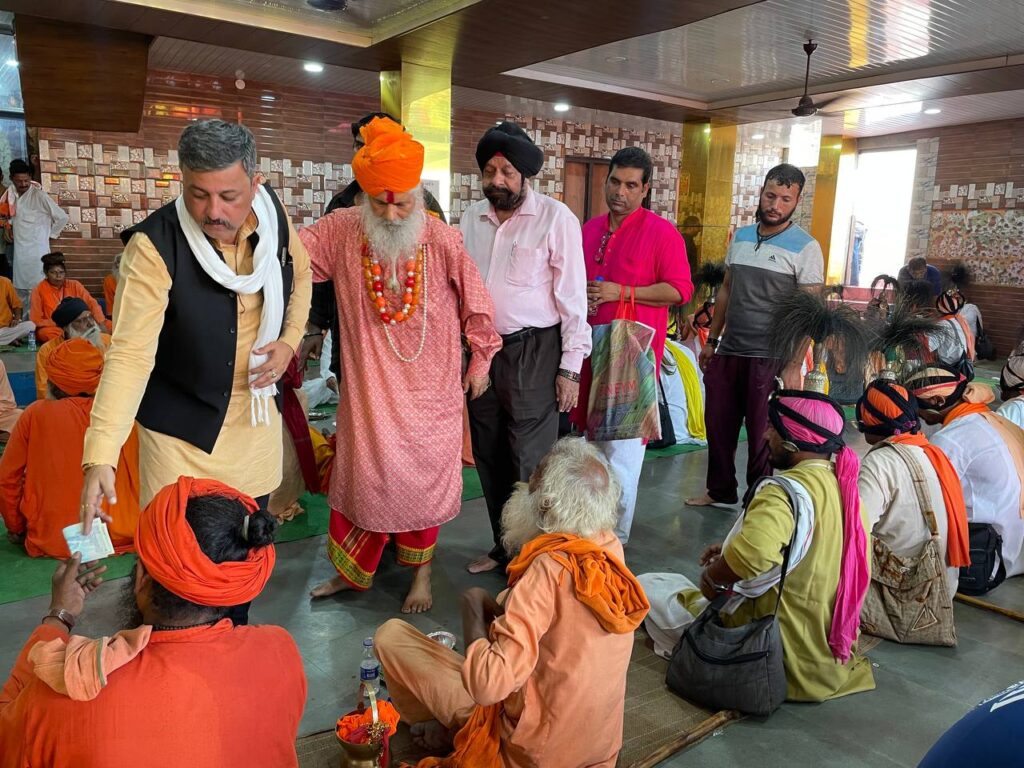 Prominent among those who attended the Puranahuti and culmination of Bhagwat Katha include Team Jammu Chairman Zorawar Singh Jamwal, Mahant Rameshwar Dass ji Maharaj, MP Jugal Kishore Sharma, Ex. MP Samsher Singh Manhas, BJP Protocol Incharge Mahila Morcha, JKUT, Pooja Salgotra, Senior Journalist King C Bharati and Raman Raina who looked after media and other facilities during the 11-day long Mahayagya.
The managing committee members include Ashok Singh Chib, Satish Sharma Narwal Wale, Atul Sood Shiv Nagar, Vasu, Vishu Jaipal Paloura, Suresh Kumar Laswara, Sonu Baba Paloura, Jyot Baba Paloura, Ashok Singh, Corporator, Balbir Singh Paloura, Mohit Gupta, Amarjeet Singh, Deepanshu, Pawan Kumar Sharma, Suresh Kumar Rehari, Kuldeep Gupta Talab Tillo and Varinder Singh Badori.
Mahant Shri Kuldeep Singh Ji and the managing committee members expressed their sincere thanks for the Jammu and Kashmir Police and the District Administration for their cooperation to organise the Mahayagya.